March 30, 2022
GET VACCINATED – Free Bus/Ferry Pass Promotion Ends Soon!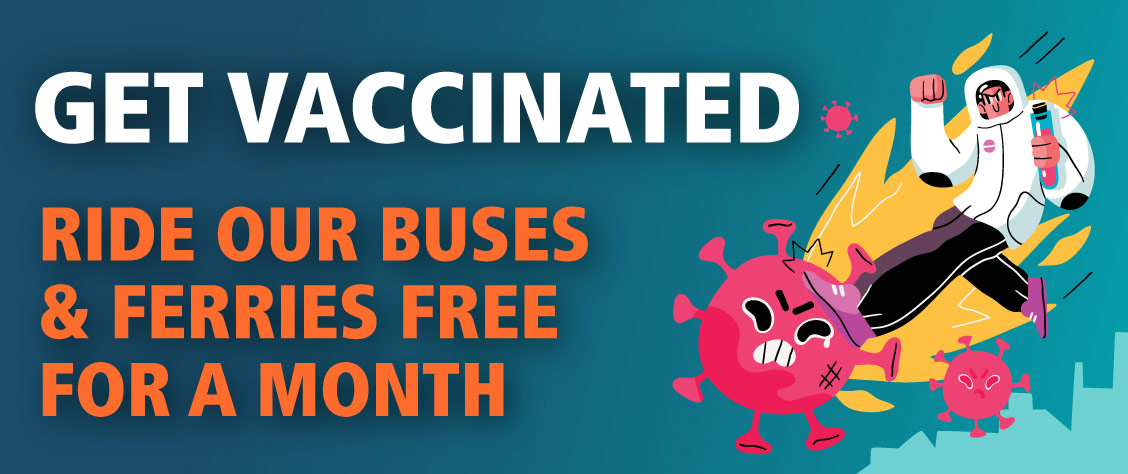 April is your last chance to obtain a "vaccination voucher" for a free combo Kitsap Transit monthly bus/ferry pass valid on all of our services through May.
Last year, Kitsap Transit partnered with several community health organizations to encourage residents to get vaccinated against COVID-19. Anyone who got a COVID-19 shot — either the initial vaccination or a booster shot — at a participating provider's clinic in Kitsap County from June 2021 through April 2022 is eligible for a voucher that can be redeemed for a free combo bus/ferry pass online or in person at our Customer Service Office in Bremerton.
Partner providers will stop distributing vouchers after April 30. Kitsap Transit will stop accepting voucher redemptions after May 6. Customers who wait until the deadline will receive passes valid only for the remainder of May.

How to Get Your Combo Bus/Ferry Pass:
Step 1. Contact a participating provider (see list below) to book a vaccine appointment or visit Kitsap Public Health District's website at http://kcowa.us/vaccine.
Step 2. Get your shot. Kitsap Transit provides FREE transportation to anyone who needs assistance getting to vaccine clinics. Please call our ACCESS service at (360) 479-7272 or (800) 422-2877. Due to waiting times at clinics, you will need to call ACCESS after you have received your vaccine to request a ride home.
Step 3. Redeem your vaccination voucher. Follow the instructions on the voucher and complete an online registration form. Not for you? Give your vaccination voucher to a friend. Limit one bus/ferry pass per person.
The following providers are participating in Kitsap Transit's Vaccination Pass promotion at certain locations in Kitsap County, including pop-up clinics:
Kaiser Permanente
19379 7th Ave NE, Poulsbo - map it
1400 Pottery Ave, Port Orchard - map it
10452 Silverdale Way NW, Silverdale - map it
Kitsap Public Health District
St. Michael Medical Center, 2520 Cherry Ave, Bremerton - map it
Peninsula Community Health Services
The Gateway Center, 2525 6th St, Bremerton - map it
Those who received COVID-19 vaccination prior to June 2021 are not eligible for the vouchers. The intention of Kitsap Transit's promotion is to accelerate the share of Kitsap County residents who are vaccinated against COVID-19.
For additional details about the Vaccination Pass promotion, including promotion rules, visit our website - CLICK HERE. You can also contact Customer Service at (360) 373-2877 or (800) 501-RIDE.