LEARN KITSAP TRANSIT
Fast Ferry FAQs
Q: How do I pay to ride the Fast Ferry?
A: You pay for your ride when you board the vessel: Tap an ORCA card pre-loaded with E-Purse, Kitsap Fast Ferries monthly pass, Puget Pass, or employer-issued ORCA cards. You may also put exact cash fare in the farebox. Passengers also can present a ticket they purchase from a vending machine located at the ferry dock. The vending machine accepts debit and credit cards (VISA or Mastercard).
Q: What does it cost to ride the Fast Ferry?
A: A single-ride fare is $2 eastbound (to Seattle) and $10 westbound (from Seattle). The price of a monthly fast-ferry pass is $168, while a monthly combined bus/fast-ferry pass is $196. Seniors, disabled, youth and low-income who show a current reduced-fare permit pay half price.
Q: Do you accept transfers from Kitsap Transit buses or the local foot ferries?
A: Transfer credits apply only when ORCA e-purse is used for payment.
Q: Is the Bremerton-Seattle schedule going to change or stay the same all year?
A: In the summer, Kitsap Fast Ferries will run during peak commute hours Monday through Friday and throughout the day on Saturday. Starting on Oct. 1, Kitsap Fast Ferries will be commuter service only until May 1 of the following year.
Q: Do you accept the ORCA card?
A: Yes, Kitsap Transit accepts ORCA cards.
Q: How many bicycles does the fast ferry accommodate?
A: Bicycles are welcome aboard on a first-come first-served basis. Crews will direct passengers on secure placement of their bikes in one of the exterior racks.
Bremerton Fast Ferry: The current design holds 12 bike (each space with inside openings of 2.25"). The curent rack design makes it impossible to safely secure bikes with fenders, disc brakes, or balloon tires.
Bicycles that do not fit safely in the bike rack will not be allowed on the vessel. If you would like to test the bike rack and see if your bicycle fits, you may do so using the bike testing rack located on the Bremerton Dock gangway. Chaining your bicycle to the rail of the vessel is prohibited.
Q: Can I pay my fare with Washington State Ferries (WSF) fare products?
A: Kitsap Transit does not accept WSF fare products.
Q: Can I bring a pet aboard?
A: Service animals are eligible to ride all Kitsap Transit buses and vessels. Passengers traveling with a service animal are responsible for the animal and may be held liable for the behavior and actions of the animal. Pets and service animals, regardless of training or certification, may be denied transportation if the animal poses a direct threat to the health or safety of others. Small pets traveling with their owners are also allowed. However, your pet must be in a suitable carrier and may not exceed 25 pounds.
Q: Is the Fast Ferry wheelchair accessible?
A: Yes. There are elevators available to access the docks and a ramp to board the vessel. At the dock there is a ramp to board the fast ferry. The vessel can accommodate up to four mobility devices*.
*Mobility Devices are defined by the ADA as "a manually-operated or power-driven device designed primarily for use by an individual with a mobility disability for the main purpose of indoor and outdoor locomotion." Other power-driven mobility devices (OPDMDs) will NOT be allowed aboard the passenger only Rich Passage 1 to maintain the safety of all passengers and crew members. OPDMDs (i.e, ATVs, Segways, mopeds, scooters, golf carts) infringe upon safe operation due to strict weight limits enacted and enforced by the United States Coast Guard, the high volume of pedestrian traffic, the design and operational characteristics of the vessel (there is no available storage to secure such devices), and the substantial risk posed by combustion-engines containing flammable liquid fuel that is a marine pollutant.
Q: Are strollers allowed on board the Fast Ferry?
A: Yes! The crew can easily accommodate strollers on board.
Q: Can I bring an electric bicycle aboard?
A: No, electric bicycles are not permitted on the Rich Passage 1 because they introduce uncertainty to the weight ratios within which the vessel needs to operate.
Q: Where are the schedules for the fast ferries sailing from Southworth to Seattle?
A: Schedules will be developed once Kitsap Transit is closer to launch of this route. Fast-ferry service is slated to begin in 2020 for Southworth.
Q: What is the seating capacity of your Fast Ferry?
A: On the Bremerton route, Rich Passage 1, Lady Swift and Reliance each seats 118 passengers. On the Kingston route, Finest operates with a capacity of 240 passengers.
Q: If I buy a fast-ferry ticket and cannot get a seat, will Washington State Ferries honor my ticket?
A: No. However, If Kitsap Transit's vessel is not able to sail due to mechanical breakdown, Kitsap Transit will provide its monthly passholders with tickets on the next available WSF sailing. Single-ride tickets on Kitsap Transit's fast ferry are valid through the expiration date on the ticket.
Q: Does the Fast Ferry carry automobiles?
A: No, the service transports passengers only, not automobiles.
Q: Why is there no service on Sundays?
A: Just like Kitsap Transit's buses, Kitsap Fast Ferries do not run on Sundays. We are currently reviewing bus ridership and evaluating the pros and cons of Sunday bus service.
___________FAST FERRY RESERVATIONS___________
Q: How do I make a reservation?
A: We accept reservations only on the Bremerton Fast Ferry. To get started, register an account at Kitsap Transit's reservations page. You will need a valid ORCA card number and will enter in the appropriate field your last name, followed by the last five digits of your ORCA card number, no spaces. For details, see our presentation or watch our webinar.
Once registered, you can book a single trip or a week's worth of trips in an order. You can also visit our customer service office or call our call center at (800) 501-RIDE for assistance.
Q: I experience a "login loop" on my browser when trying to access the reservations system. What can I do about it?
A: In many cases the "login loop" is due to settings on your device's Internet browser. You also may need to clear your brower's cache. Please consult our vendor's recommendations on how to alleviate this issue: CLICK HERE.
Q: How do I cancel a reservation?
A: Customers can cancel their fast-ferry reservations up to 30 minutes before a scheduled sailing, making these reservations available to other customers. Customers who have created accounts and made reservations online can log in and cancel online. Reservations that have been made through a customer service representative will need to be cancelled through a customer service representative.
Kitsap Transit has published step-by-step instructions on its website. Please visit the Fast Ferry Reservations page.
Q: I have booked two spots on a sailing. How do I cancel the reservation for just one person and keep the one I have?
A: Follow along in the screenshots below. In the Order History tab, click on the Order to bring up the detail; click on the Cancel Ticket(s) button (not Cancel All Tickets) next to the sailing reservation you want to change. The next screen will give you the option to change the number of spots being cancelled from 2 to 1 using the minus ("-") button. Once you click "Yes," the system will cancel the reservation for that one spot. This change cannot be undone. You can verify this by bringing up the Order detail page and seeing that now the reservation is for one spot instead of two.
When you check in at least 10 minutes before your sailing, you will show the dock agent your reservation barcode with the lower number. The cancelled reservation on a two-seat reservation will be the barcode with the higher number.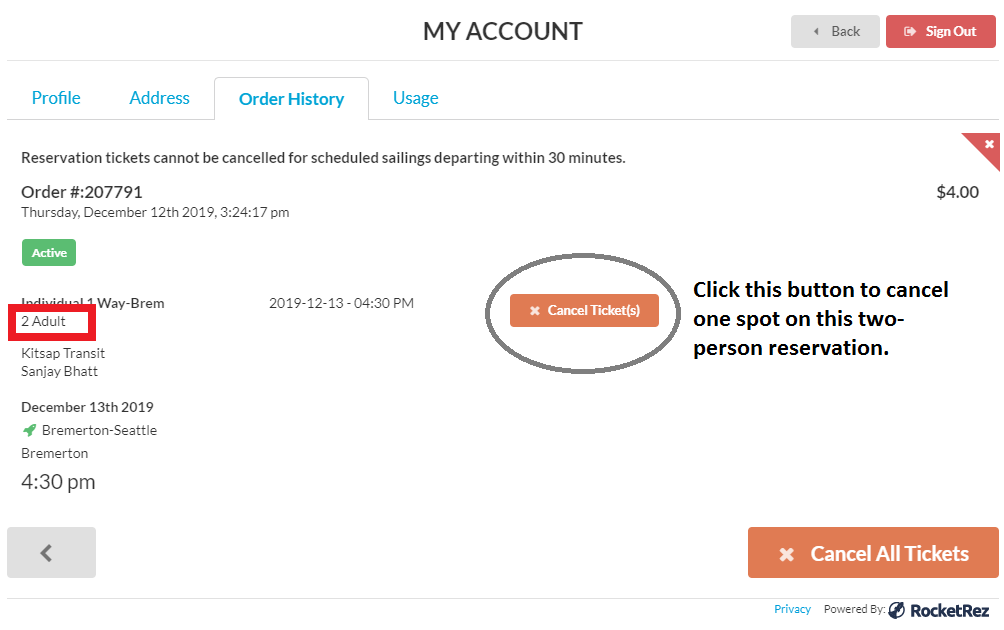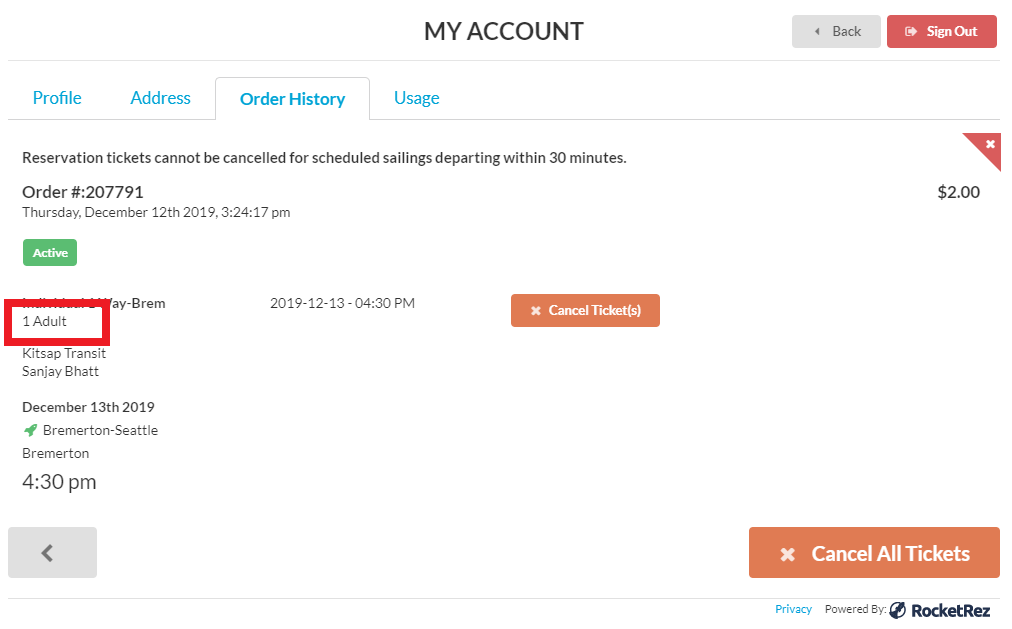 Q: I am leery of cancelling reservations because your system may cancel the entire week's worth of bookings instead of the one trip I can't make. What am I supposed to do?
A: You should not experience this problem as long as you follow the instructions mentioned above. If you still experience this problem, report it using our online form.
Q: How do I know I have successfully cancelled my reservation?
A: If you have successfully cancelled a booking, you will see the button on the Order History change to "Cancelled." If you are trying to cancel a booking within 30 minutes of a scheduled sailing, the system will not allow it. Instead, the button on the order and next to the tickets will say "Past Cutoff Time." Consult our fact sheet on the Reservations page for screenshots.
Q: How do I look up my reservations to see which ones were deemed "no-shows"?
A: Effective December 11, 2019, a new "Usage" tab is available in My Account. Customers can see the percentage of their account's bookings that were used (i.e. checked in) by year, by month and by day. From the annual view, click on the "Details" button to drill down to the statistic for each month; to look at individual sailings, click on the "Details" button again. Consult our fact sheet on the Reservations page for screenshots.
The system will display "Used" for reservations that were scanned or redeemed at least 10 minutes prior to a sailing and "Not Used" for reservations that were not (see image below). Reservations that have not been checked in at least 10 minutes before a sailing are released to walk-up customers and considered not used.
Q: Why is Kitsap Transit sending out these "no-show" notices?
A: We want our customers to be aware that our records show they have a high number of unredeemed reservations ("no-shows") so that they start to change their behavior, such as not booking for two seats when they need only one and cancelling bookings for sailings they know ahead of time they won't use. The average no-show rate for August 2019 sailings was 48 percent. This is a very high rate of unredeemed reservations and undermines the goal of having a reservation system to manage demand. Since warning notices were issued in October 2019, the average no-show rate has fallen dramatically: The average rate was 25 percent in November 2019.
Q: How did Kitsap Transit define a "high" number of no-shows?
A: A reservation is considered unredeemed ("no-show") if it has not been checked in by our dock agent at least 10 minutes before a scheduled sailing -- even if you give your reservation to someone else and they are not checked in at least 10 minutes before that sailing. We exclude reservations on cancelled sailings when we develop warning notices, although the reservation will still show up in your order history.
In reviewing no-shows from June through August 2019, Kitsap Transit set thresholds to focus on those customers who reserved 30 or more seats and had 10 or more no-shows during the period. There were 360 customers who met this criteria, with a median no-show rate of 54 percent (half had a higher rate, half had a lower rate).
In reviewing no-shows on sailings from September through November 2019, Kitsap Transit used similar criteria: Individuals who reserved 30 or more spots on sailings during the three-month period and had a "no-show" rate of 33 percent or higher. In December 2019 Kitsap Transit sent warning notices to about 175 individuals based on this criteria, including 37 individuals who had no-show rates of 75 percent or higher; this subgroup received notice that the agency will begin deleting reservations from their accounts unless they contact us before January 21, 2020, and show improvement.
Q: I'm late on occasion. What's the big deal?
A: Chronic no-shows are bad for everyone: It's bad for customers who need the certainty of a reservation but can't get one and must make other travel arrangements. It's bad for customers who follow the rules and don't want to pay a convenience fee, if one is implemented to reduce the no-show rate. And it's bad for taxpayers if the vessels leave the dock at less than full capacity on a route where we know demand exceeds capacity.
Q: I want to report issues I am having trying to cancel my reservation. How do I do that?
A: Kitsap Transit has set up a web form in which customers can report technical issues with cancelling their reservations; this information will be shared with the reservation-system vendor for the purpose of detecting potential systemwide issues and addressing them. The form can be accessed by clicking here.
Q: When does the reservation window open?
A: At 9 AM Pacific on the first business day of the month. Here is the reservation calendar through the beginning of 2021.
| | |
| --- | --- |
| For sailings in | Reservations open |
| January 2020 | Mon., Dec. 2 |
| February 2020 | Thur., Jan. 2 |
| March 2020 | Mon., Feb. 3 |
| April 2020 | Mon., March 2 |
| May 2020 | Wed., April 1 |
| June 2020 | Fri., May 1 |
| July 2020 | Mon., June 1 |
| August 2020 | Wed., July 1 |
| September 2020 | Mon., Aug. 3 |
| October 2020 | Tues., Sept. 1 |
| November 2020 | Thurs., Oct. 1 |
| December 2020 | Mon., Nov. 2 |
| January 2021 | Tues., Dec. 1 |
Q: What if I have a monthly pass but am unable to reserve seats on any sailings?
A: Due to the anticipated demand for seats, Kitsap Transit recommends that commuters first reserve their block of seats for the month before buying a monthly Kitsap Transit Fast Ferry pass.
Q: Can I make a reservation for a specific sailing time on multiple days?
A: Yes, you can reserve a spot on one eastbound trip and one westbound trip each day for the current month and succeeding calendar month.
Q: The reservation system requires part of an ORCA number. Can I use my U-PASS number?
A: Yes. You'll enter your last name, followed by the last five digits of the U-PASS number, no spaces.
Q: Are reservations available on all sailings?
A: Initially, reservations will be taken only for peak-commute period trips Monday through Friday. As demand grows, Kitsap Transit will consider allowing reservations on additional sailings.
Q: How early do I need to arrive at the dock to redeem a reservation?
A: Customers with reservations must be in the reservation line at least 10 minutes before scheduled sailing time. Reserved seats that have not been redeemed will be released to passengers in the walk-up line 10 minutes before scheduled sailing time.
Q: Do I pay my fare when I reserve my seat?
A: No payment is required at the time of reservation.
Q: How many seats are available to walk-up passengers?
A: The Bremerton Fast Ferry accommodates 118 passengers. Eighty-eight of those seats will be open for reservations. The remaining 30 seats will be for walk-up passengers.