LEARN KITSAP TRANSIT
Seattle Fast-Ferry Terminal Siting Study

Kitsap Transit is evaluating options for an alternative downtown Seattle landing site to support ongoing operations and growth of its popular passenger-only ferry (POF) service, Kitsap Fast Ferries. The service currently operates two routes -- Bremerton/Seattle and Kingston/Seattle -- and will launch a third route soon from Southworth to downtown Seattle.

Currently, Kitsap Transit shares use of Pier 50 in downtown Seattle with King County Metro Marine Division, the owner of the facility and operator of two Water Taxi routes. Pier 50's dock can accommodate only two passenger-only ferries at the same time.

The goal of the Seattle Fast-Ferry Terminal Siting Study is to identify a preferred location to support the long-term operation of three Kitsap Fast Ferry routes. See our FAQs for additional information.

Connect with us

Kitsap Transit recognizes that terminal siting on the Seattle waterfront is complex and is engaging stakeholders to thoroughly understand, consider and balance potential partnerships, opportunities, benefits and challenges.

Have a comment, question or concern? You can connect with us in one of two ways:

To receive project updates, join our e-mail list! CLICK HERE and subscribe to the Seattle Fast-Ferry Terminal Siting Study list.

Passenger-Only Ferries Map ​
PROJECT SCHEDULE

Fall/Winter 2020
Initial site evaluation to identify two alternatives for further analysis
Spring 2021
Detailed analysis of two alternative sites
Summer 2021
Preferred alternative identified

Engagement and outreach will take place throughout the project
Why is Kitsap Transit conducting a Seattle Terminal Siting Study?
Ridership on passenger-only ferry (POF) routes, including Kitsap Transit's Fast Ferry service, is growing, as is interest in additional routes. Because the current POF landing site in downtown Seattle —Pier 50—can accommodate only two ferries at one time, it is increasingly difficult to maintain service reliability, let alone pursue service and/or route expansions.
To address this challenge, Kitsap Transit is evaluating options for an alternative downtown Seattle landing site.
What will the Seattle Terminal Siting Study do?
The study will identify and comprehensively evaluate alternatives for a downtown Seattle landing site by following this process:
Developing criteria to evaluate the alternatives
Evaluating site alternatives (minimum of 6)
Narrowing the list to two sites for further analysis, including environmental assessment
Identifying a preferred alternative to move forward in National Environmental Policy Act (NEPA) scoping and planning
Engaging communities, tribal governments and affected stakeholders throughout the process
Which potential downtown Seattle terminal locations are being reviewed?
The Seattle Terminal Siting Study will evaluate potential locations along the downtown Seattle Waterfront starting north at Pier 70 down to Pier 46 to the south.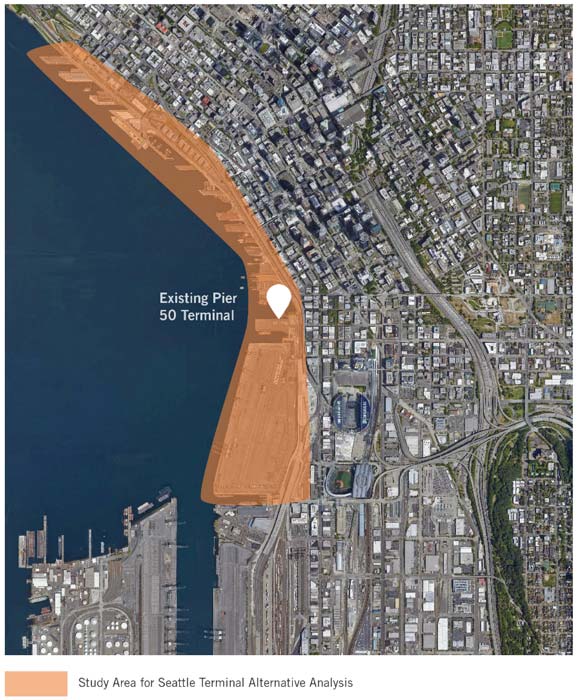 How are potential terminal locations being analyzed?
The Seattle Terminal Siting Study is developing criteria based on Kitsap Transit's long-term service needs and goals including:
Ridership and access
Connections to downtown core and transit
Space needs for vessel and passenger programming
Vessel navigation requirements
Environmental, cultural and historical impacts
Land use and ownership
Environmental justice
Community input
How is Kitsap Transit engaging around the Seattle Terminal Siting Study?
Effective and thorough engagement will contribute to the success of the study. Kitsap Transit is seeking input from jurisdictions, Tribes, stakeholders and communities, including historically underrepresented communities, to understand, consider and balance opportunities, benefits and challenges of terminal siting. Feedback will inform the study and future NEPA processes.
Outreach will be conducted in accordance with NEPA requirements as well as current COVID-19 public health guidance.
​What input is Kitsap Transit seeking on the Seattle Terminal Siting Study?
Kitsap Transit is asking for feedback on these aspects:
Purpose and need for an additional downtown Seattle passenger-only ferry landing site
Locations being analyzed
Potential project benefits and impacts on your community, the environment and transportation
How does the COVID-19 pandemic impact the Seattle Terminal Siting Study?
Kitsap Transit regularly consults with Kitsap Public Health District for guidance on how to conduct operations in a safe manner and prevent the spread of COVID-19. For example, Kitsap Transit has moved its public gatherings from in-person to online. Moreover, Kitsap Transit has implemented safety enhancements on its buses and ferries to serve those who rely on public transportation for essential services or are essential workers.
The pandemic has disrupted nearly all aspects of society, including dampening transportation demand from commuters and resulting in the loss of millions of jobs nationwide. The Seattle Terminal Siting Study provides a transparent, structured planning process for identifying a preferred landing site. Bringing this vision to fruition will provide economic benefits to surrounding communities and meet the long-term demand for reliable, convenient passenger-only ferry service.
How can individuals provide input?
To provide comments or ask questions about the Seattle Terminal Siting Study, please see the Connect With Us section above.
What is the project timeline?
The Seattle Fast-Ferry Terminal Siting Study launched in September 2020 and will continue through summer 2021 when a preferred alternative will be identified.
---